To help guide you on your journey to creating an amazing meal we will periodically post new recipes and links to other sites with amazing recipes.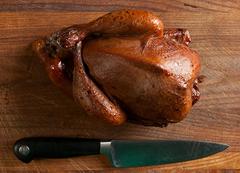 Wild Game Enthusiasts! Inviting people over a roast chicken dinner is nice but inviting them over for a grouse dinner or a pheasant dinner can amp a simple dinner party up to an event worthy of printed invites and valet parking. I've mined the internet for simple, mouth-watering recipes and techniques for preparing wild game because wild game can sometimes be a little tricky but it doesn't have to be.
http://honest-food.net/wild-game/pheasant-quail-partridge-chukar-recipes
http://www.chicagonow.com/training-the-wolf/2013/10/5-tips-for-cooking-game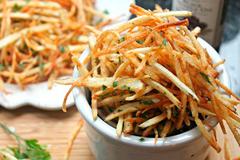 French Fries with Truffle Oil. French fries are one of my favorite things if prepared correctly. On my food planet, all fries must be cooked twice: Once to cook them through and once again to crisp and brown them. Some folks prefer the old school method of double plunging them in hot oil: Plunge them in hot oil to cook them through, drain, and once they have drained and cooled a bit, plunge them right back into the hot oil from whence they came. I like this traditionally French method and this is how I have been preparing french fries for years but lately I've been trying out a new method of baking the cut potatoes spread out on a cookie sheet in the oven to cook them through and then plunging them into hot oil for crisping and browning, known around our kitchen as the oven-bake-and-then-fry method. It allows me to spend less time babysitting a popping, spitting, pot of hot oil. Regardless as to how you choose to cook your fries another MUST is sea salt, parsley, and truffle oil. And when I say MUST I mean MUST. Truffle oil elevates your fries from burger stand to bistro. And if I am really feeling it, I sometimes mash a bit of minced garlic into the truffle oil prior to incorporating it with the fries.
To read more on baking the fries in the oven first check out this article: http://www.sheknows.com/food-and-recipes/articles/1002889/shoestring-fries-with-black-truffle-oil-sea-salt-and-parsley-recipe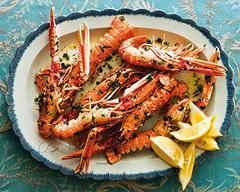 Langoustines--also known as Dublin Bay prawn, scampi or Norwegian lobsters--are more expensive than prawns but are worth it because they are really yummy, meaty, and versatile. While they are more common in Europe we import them from Scotland for you so now you can become familiar with them as well. To help familiarize yourself with our little crustacean friends here are some folks from the Shellfish Association of Great Britain to make a formal introduction... http://www.youtube.com/watch?v=Dz0kCpjc9Iw
http://www.epicurious.com/recipes/food/views/Sauteed-Langoustine-with-Chardonnay-Reduction-14819